Greater Des Moines' big parks plans seen as a draw for new development, workers
Friday, June 29, 2018 6:00 AM
Greater Des Moines leaders plan hundreds of millions of dollars' worth of parks improvements that aren't just about zip lining, kayaking, swimming, fishing or hearing an outdoor concert.
The improvements are about attracting and keeping residents in a market with an exceptionally low unemployment rate of 2.3 percent — which means a shortage of skilled workers.
"What we are seeing is that cities around the country are using parks and open space as a way to increase the quality of life to attract new businesses and residents as well as to retain the people who already are living in the city," said Catherine Nagel, executive director of the City Parks Alliance in Washington, D.C.
Millennials, and perhaps others, now are looking at destinations rather than jobs, Nagel said. And places like Des Moines and its suburbs, which offer more affordable housing and easy commutes, can also sell themselves based on strong parks, trails, and river and lake recreation. In other words, the outdoor amenities are tools for economic development.
"Cities compete with each other for knowledge workers," Nagel said. "People are moving to cities for quality of life even before they have a job. They are looking for recreation and exercise and ways to be social.
"It's not just the large cities. It's the small and midsized cities like Des Moines, because they find out they can be competitive because housing is more affordable than what they are seeing in larger cities," Nagel said. "Younger people are moving to cities that aren't as well-known that have really strong local character. It's really a choice. Younger people are giving up their cars. They can rely on Uber and their bikes."
In Nashville, Tenn. — a city the Greater Des Moines Partnership often compares with Greater Des Moines — city leaders invested in downtown improvements, including a riverfront park. The result: a 50 percent increase over a decade in the number of residents ages 25 to 34 who have college degrees.
Nationally, Nagel said, there has been a 37 percent increase in the number of young, educated adults moving to "livable, walkable urban neighborhoods."
"It's becoming something that people are expecting, and it's helping to ensure the success of developments," Nagel said.
In Greenville, S.C., for example, leaders arranged for $13 million in spending on Falls Park on the Reedy, which within two years drew $150 million in investment.
Over the years, a highway bridge had been built over the falls, where the city had been born.
"It was a very tough sell because we basically told people, 'We are going to spend about $13 million to create a park around a waterfall you've never seen. Trust us," Mayor Knox White said in a video produced by Nagel's group. "Most people didn't. What we've created is an incredibly successful economic development story."
Condominiums, shops, hotels and restaurants popped up around the park.
That message isn't lost here. The development around the 4.4-acre John and Mary Pappajohn Sculpture Park, opened in 2009 in downtown Des Moines, has been quick and includes the new headquarters for Kum & Go, still under construction, and a Wellmark Blue Cross and Blue Shield complex. Coffee shops and restaurants encircle the popular green space.
Hubbell Realty Co. has housing developments in the works near the planned whitewater courses in downtown Des Moines along both rivers. President and CEO Rick Tollakson has said he sees the $100 million-plus water trails plan as crucial to luring workers.
Creating these attractions can take years of planning, and all local governments do to some extent.
Des Moines is completing its 191-page update to the city's last major parks plan, completed in 1995. Polk County is working through $50 million worth of recreation and water quality projects after residents voted to tax themselves to pay for the work, and other fundraising ensued. West Des Moines has a $32 million plan for a recreation area built around waterways in the suburb, and has eyed construction of an amphitheater near City Hall.
Jay Byers, CEO of the Greater Des Moines Partnership, said: "A thriving and extensive parks and trails system helps attract and retain top talent. We have to compete with other cities around the country and the globe. Some have oceans and mountains. We have an outdoor parks and recreation system that can compete with anywhere in the world."
Take the plans for the concert venue at Water Works Park, intended for medium-sized to small gatherings on a large lawn surrounding a new stage. "Colorado might have Red Rocks, but DSM has 'green grass,' " Byers said.
Clyde Evans, West Des Moines' community and economic development director, said parks and trails always are ranked high on citizens' lists of things they want. It may be just one of the factors in a move — but it's an important one, Evans said.
"A lot of people are moving here because of schools and things like that," he said. "They say, 'Oh, there is a neighborhood park.' Those are all things that are going to be considered."
Evans talked to a friend who decided to move to Portland, Ore., without a job, because of the quality of life there.
He also recalls a small community in Illinois that lost a cookie manufacturer to Terre Haute, Ind., because the company owner had a boat too big to float on anything the Illinois location had to offer. Recreation proved important.
Youth sports tournaments also are a huge perk for this market. Evans recalled courting a restaurant operation — unsuccessfully — that showed the power of amateur sports. When Evans went to describe Jordan Creek Town Center, the man cut him off. "He knew all about Jordan Creek because he had been coming to soccer tournaments and they had eaten at Fleming's," Evans said.
Now, Evans said, West Des Moines is building cricket facilities and planning more water recreation because people want more.
Ben Page, Des Moines park and recreation director, said his city's parks plan will call for a renewed connection with nature and also call for innovation and for equity in offerings across neighborhoods.
And, yes, it will boost economic development.
"The parks department will have a huge impact on the future vitality of the city," Page said. "We always did. Every time we hold a national soccer tournament, we get messages from around the country" praising the facilities and the organization.
"Press releases about the high ratings here always have a picture of a lake or pool," Page said. "We play a huge role in businesses' ability to attract and retain workers."
And it is that role, Page said, that led major companies such as Principal Financial Group — which led the eight-year effort and financial campaign to build the Principal Riverwalk, officially opened in 2013 — to invest millions of dollars in parks and recreation offerings.
Now the trick is to offer variety — lacrosse and rugby, for example — "because people demand it," Page said. "Des Moines needs a variety of recreational opportunities because the population is changing. Before it was easy; we had soccer and football. But if we are going to remain a vibrant city, we need to remain nimble."
Page noted that Des Moines supports the Trust for Public Land's goal of having a park, school grounds or other public space within a 10-minute walk of people's homes. The organization reports 58 percent of Des Moines residents are in that situation; the national average is 54 percent. In West Des Moines, the figure is 55 percent; Urbandale, 78 percent; Clive, 73 percent.
Des Moines Mayor Frank Cownie said the idea is to give residents what they want. "Parks are such a huge part of what goes on for our citizens and the quality of life in and around our city. We are looking at how we see the parks for the next 20 years.
"This is the 125th anniversary of your park system, so this is a really important piece," Cownie said. "We have 75 parks in and around the city to try to meet the needs of our citizens. We want to know what they want and what they need and how they view their parks as part of their lives, as part of their neighborhood. What should the parks be?"
More than a set of soccer fields. More than playground equipment and bike trails. These days, they are economic development engines.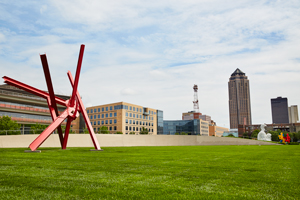 Photo by John Retzlaff
---
The national scene

According to City Parks Alliance, parks have these effects:
Add private investment and jobs. Denver turned $1.2 million in federal grants into $2.5 billion in public and private investments.
Increase property values. Houses near parks or trails are worth 5 percent to 20 percent more than others in the community.
Attract residents and boost property tax revenue. Since 2000, the number of young, educated adults moving to livable, walkable urban neighborhoods has increased 37 percent nationally.
Lower costs. Philadelphia saved $14 billion by using parks and other "green infrastructure" to manage stormwater, instead of building pipes and tunnels.
Save residents money. Parks help people keep the weight off, which can save them $1,500 a year per person on health care.
---
In the works

Projects planned or under development in Greater Des Moines:
Whitewater courses, zip lines and a skate park in downtown Des Moines.
A two-sided concert stage at Des Moines Water Works Park.
A "five lakes" development in West Des Moines, building on Raccoon River Park.
A nearly finished lodge at Jester Park.
New facilities and water quality improvements at Easter Lake.
See our panel discussion about outdoor recreation on video
---

Convenience

The percentage of residents who live within a 10-minute walk of a park:
Grinnell, 91
Pella, 80
Altoona, 78
Urbandale, 78
Marshalltown, 77
Ankeny, 74
Ames, 73
Clive, 73
Carlisle, 65
Winterset, 60
Indianola, 59
Des Moines, 58
West Des Moines, 55
Adel, 54
Bondurant, 48
Windsor Heights, 43
Pleasant Hill, 41
Waukee, 40
National average, 54
*City Parks Alliance
https://businessrecord.com/PrintArticle.aspx?aid=82988&uid=e9beadb4-20a5-4241-9f5d-6b4a192c67eb